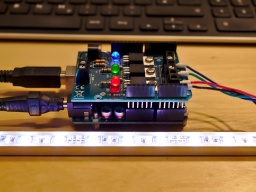 A simple method to keep burglars away from your home is a TV simulator. It's basically a device with some bright RGB LEDs showing color patterns that resemble those of a telly turned on. They are sold at many electronic retailers. However, some customer reviews say that the color patterns do not look very realistic, with some distinctive flashes and colors that are usually not to be seen on a regular movie. Besides that, the color patterns often repeat after about half an hour.
Actually, distinctive color patterns that repeat after a short time, are a major disadvantage. Experienced burglars might recognize the color patterns and figure out it's a TV simulator. This would rather be an invitation than a deterrent.
So, let's build a better TV simulator ourselves. It's also more fun than buying something ready.
Continue reading...