The player is playing again. Time for some final cleanings.
Fifth Problem: Crackling Volume Pot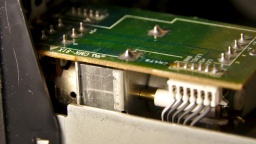 After the calibration part, this is going to be a walk in the park. Or so I thought.
On the CDP-991, the playback volume can be changed via remote control. There's a motor that actually drives the volume knob and the potentiometers. The custom file feature allows to store individual volume settings for different CDs.
Due to the construction with the pots and the motor, the volume control assembly is rather big and is mounted to the front panel with screws. I removed the screws and the volume knob, but still could not remove the assembly for cleaning. It was still fixed somewhere else. The service manual gave no hint about how to remove it.
So I just tried my luck and sprayed some contact cleaner into the holes of the three pots close to the front. It worked, and saved me from finding a way to remove the assembly.
And that's it... I closed the case and polished it with a microfiber cloth and a soft cleaner. Then I put batteries into the remote control.
Welcome back to the living room, my good old CD player! 😀
Retrospective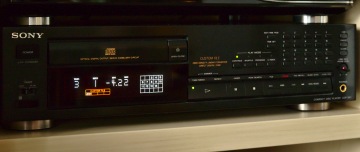 Looking back, I am surprised how much is still working and in a good shape after 27 years. I am also surprised that I could still get a good service manual, and all the necessary replacement parts.
For most parts of the restauration, I just needed a screwdriver, cotton buds, isopropanol, and grease. So basically it can be done by anyone who isn't all thumbs. Just the pickup replacement and the calibration needs more elaborate equipment.